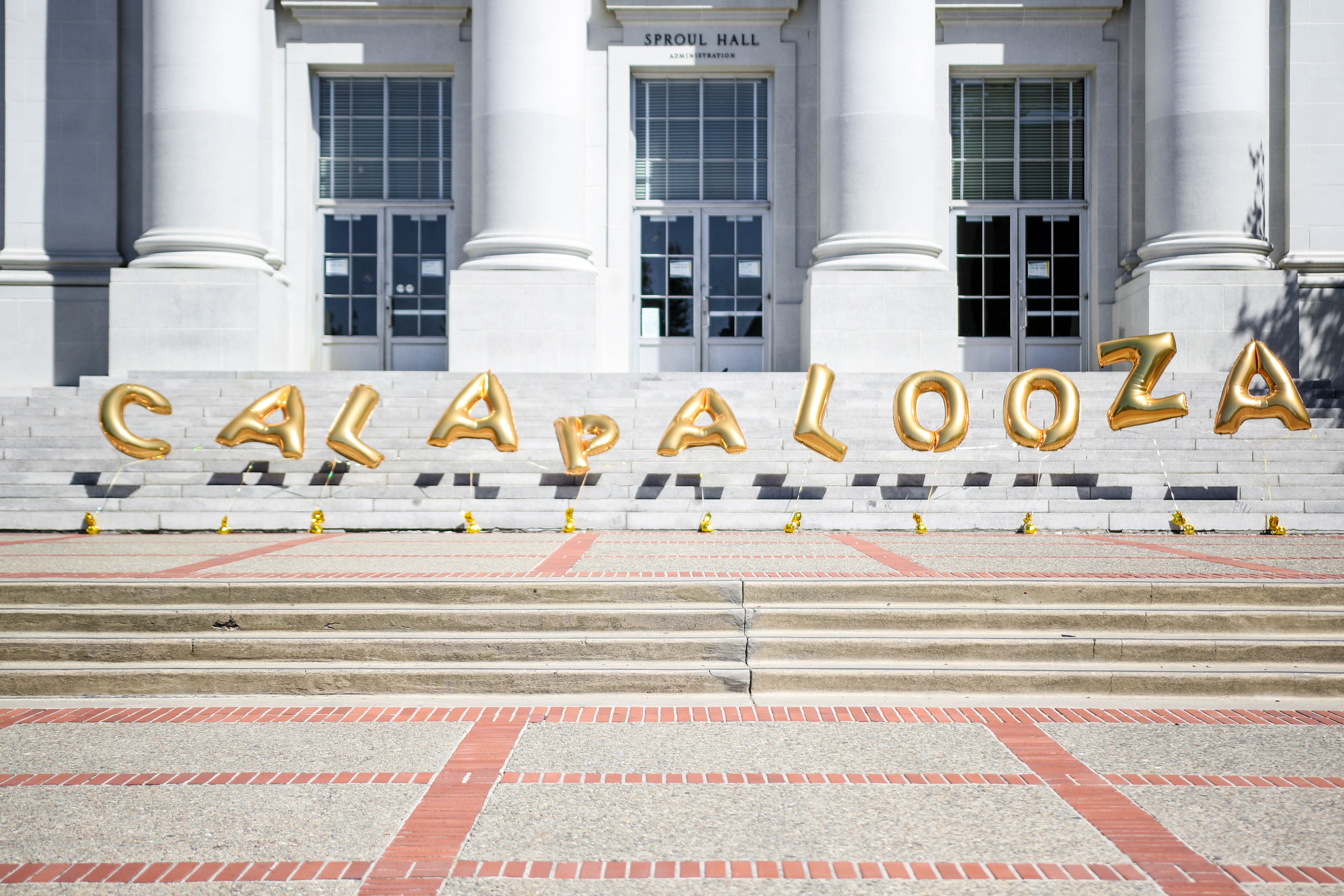 What? When? Where?
Calapalooza is the University's premier twice-a-year student activities fair. Participation by student groups involves representing your organization at an assigned table, where you can recruit members and build awareness about your group.

Calapalooza will take place Tuesday, January 23, 2018 from 11AM to 2PM. The event will be held in Martin Luther King Student Union in conjunction with the ASUC Student Union's Open House.

Who?
Recognized fraternities, sororities, councils, registered student organizations, sponsored student organizations and student government groups, or any of those aforementioned groups who have begun the LEAD Center recognition process, are able to table at Calapalooza. No rec sports clubs, sports teams or other non-LEAD Center recognized groups are eligible to table. Graduate and Professional organizations may table at Calapalooza.

How?
Student orgs who have signed up to table found here are required to check in between 9:45AM and 10:30AM in order to not forfeit their tabling assignment.  Confirmed organizations need to send only ONE representative to check-in (to avoid overcrowding at check-in).

Registration and waitlist
The tabling capacity for Calapalooza is 252 student organizations.  Space is limited, so it is important to have a representative from your org be present to confirm your participation (if you have been confirmed a table here).  Should a pre-registered student organization not check-in by 10:30AM, another student org on stand-by can be given the open table.  Student organizations on stand-by MUST be present in the Kerr Lobby at the check-in table by 10:30AM in order to be considered for a table at Calapalooza.  

If your group is not able to get off the waitlist, passing out informational flyers to students walking around the tables is possible.

Table assignments in advance
The LEAD Center will email organizations their shared table assignments by Wednesday, January 17th.  They will also be posted on this site and at Calapalooza. Please communicate with your group's members to have someone checking in after 9:45AM and being present by 10:30AM, or forfeit your table (you may begin setting up as soon as you check-in). If your organization is no longer able to table at Calapalooza, please email lead@berkeley.edu.

Info desk/check-in table
After check-in is completed, the desk will serve as an information table with staff to answer students' questions at Calapalooza and the LEAD Center.  Though check-in takes place from 9:45AM-10:30AM, the event is advertised to take place from 11AM-2PM.
TOP 10 Participation Expectations
Every student group WILL SHARE A TABLE with another student group, for a total of two (2) groups per table.

To avoid forfeiting one's placement, you must be setting up by 10:30AM.  (You may begin as early as 9:45AM). Groups on standby will be assigned tables immediately after check-in, so please don't be late.

Groups cannot switch or change table locations as space is limited and table assignments are published for student attendees to find your organization.

Each organization can have no more than 2 participants at their side of the shared table during the event due to space capacity of the ballroom and surrounding areas.

If you are distributing food or drinks, you MUST bring a copy of the food permit you obtained through the Environmental Health and Safety Office at

http://bit.ly/foodpermit

.

Any fundraising requires the completion of a fundraising certification through the LEAD Center; see

http://bit.ly/fundraisingpermit

No amplified sound allowed – this includes individual boom boxes, musical instruments, and megaphones

.

Displays must not exceed 3' x 6'.

No chairs will be provided.

Only recognized fraternities, sororities, councils, registered student organizations, sponsored student organizations, and student government groups, and are permitted to participate in Calapalooza.
If you have questions, please contact the LEAD Center at (510) 642-5171 or lead@berkeley.edu.