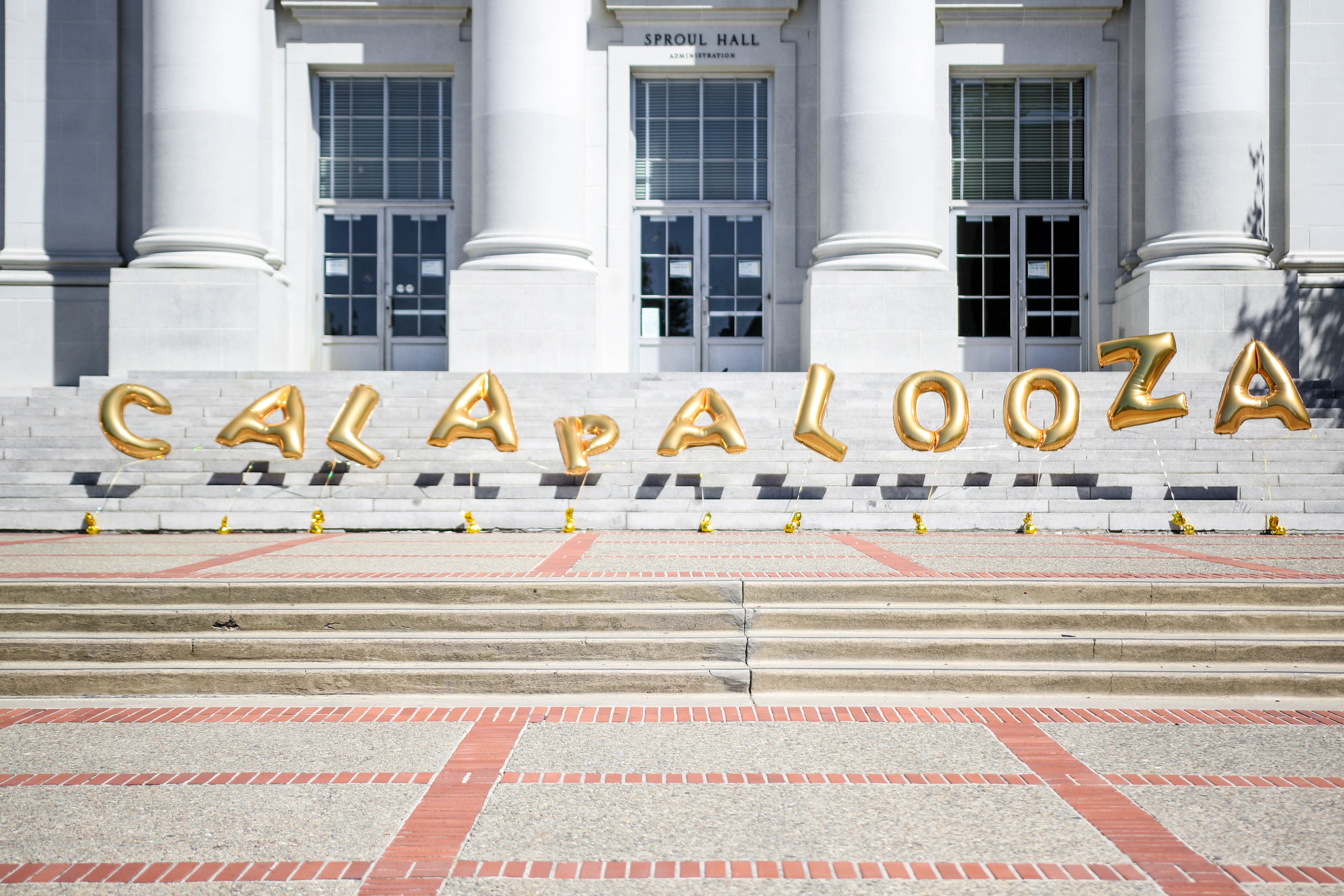 What? When? Where?
Calapalooza is the University's premier twice-a-year student activities fair. Participation by student groups involves representing your organization at an assigned table, where you can recruit members and build awareness about your group.
Calapalooza will take place Thursday, August 30, 2018 from 3PM to 7PM. The event will be held on Upper and Lower Sproul, and at Sather Gate.

Who?
Recognized fraternities, sororities, councils, registered student organizations, sponsored student organizations and student government groups, or any of those aforementioned groups who have begun the LEAD Center recognition process, are able to table at Calapalooza. No rec sports clubs, sports teams or other non-LEAD Center recognized groups are eligible to table. Graduate and Professional organizations may table at Calapalooza. University offices and departments may table at Calapalooza but should use the University partner specific registration form, not the student group form.
Wondering who is tabling at Calapalooza?  Find out here to see who is tabling today.  Looking for a specific student org?  Check out the map.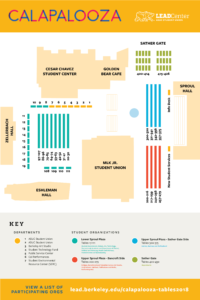 How?
To participate as a student interested in learning more about involvement opportunities on campus, just come during the event hours!  
The request for a table for your student group at Calapalooza is not longer available.  
Registration and waitlist
The tabling application deadline for Calapalooza is Tuesday, August 21st by 11:59pm. Space is limited to 500 groups. Before capacity or deadline has been reached, submission of the tabling request form will yield an automated confirmation message. Student organizations MUST be present at their table by 2:30 pm to avoid forfeiting their table.  Please communicate with your membership about who is submitting this form to avoid duplicate submissions.
After registration capacity has been reached, students who submit the tabling request form will receive an automated confirmation that they have been added to the waitlist. All student orgs on the waitlist must be present at 2:45PM when forfeited tables are available in order to claim one. If a waitlisted student org is not present when their name is called, the next student organization on the waitlist will be called.  Once the waitlisted student orgs have been assigned, the remaining available tables will be given to student orgs on a first come first serve basis. If your group is not able to get off the waitlist, passing out informational fliers to students walking around the tables is possible.

Table assignments in advance
The LEAD Center will email organizations their shared table assignments by Tuesday, August 28th at 5pm. They will also be posted on this site and at Calapalooza. Please communicate with your group's members to have someone checking in after 2:00PM and being present by 12:30PM, or forfeit your table (you may begin setting up as soon as you check-in). If your organization is no longer able to table at Calapalooza, please email lead@berkeley.edu.

Info desk/check-in table
An information desk will be available for staff to answer students' questions at Calapalooza and to coordinate the waitlist; there will be no registration desk. Instead, look out for LEAD Center staff, who will check in organizations at their assigned tables as they set up. Organizations may begin set up as early as 2 pm, but the event itself will be advertised to begin at 3 pm.
After check-in is completed, the LEAD Center table will serve as an information desk, with staff to answer students' questions at Calapalooza and the LEAD Center.
TOP 10 Participation Expectations
Every student group WILL SHARE A TABLE with another student group, for a total of two (2) groups per table

No chairs will be provided.

To avoid forfeiting placement, a member of the group must be setting up by 2:30 pm. You may arrive beginning at 2pm.

Groups cannot switch/change table locations,

as space is limited and table assignments are published for student attendees to find your organization.

Each organization can have a maximum of two participants at their half of the

shared table

during the event

If you are distributing food or drinks, you MUST bring a copy of the food permit you obtained through the Environmental Health and Safety Office at

http://bit.ly/foodpermit

.

Any fundraising requires the completion of a fundraising certification through the LEAD Center; see

https://bit.ly/2MIs3Bg

No amplified sound allowed – this includes individual boom boxes, musical instruments, and megaphones

Displays must not exceed 3' x 6'

Only recognized fraternities, sororities, councils, registered student organizations, sponsored student organizations and student government groups, and are permitted to participate in Calapalooza
If you have questions, please contact the LEAD Center at (510) 642-5171 or lead@berkeley.edu.