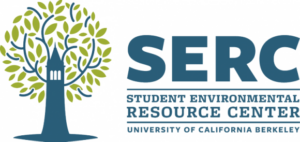 The Student Environmental Resource Center (SERC) cultivates a collaborative space to strengthen the collective effectiveness of the sustainability community, and provides resources for students to actualize their visions of a more equitable, socially just and resilient future.
SERC advises all registered student organizations and students with an interest in environmental sustainability.
Vision: Sustainability education for every UC Berkeley student.

Reach out to SERC and explore how you can get involved in one of their projects and initiatives.
You can find SERC and TGIF at bNorth in the MLK Basement.